Scroll down to start your journey...
Which Artificial Grass should I choose?
Choosing the right Artificial Grass can be tricky. Let us try and help:
After a few minutes of surfing the web for Fake Lawn you'll soon discover there's a lot of different yarns, colours, textures, densities and manufacturing countries!
Really, it's a combination of all those things that defines the quality of a fake lawn. There are a few things to pay attention to when looking at Artificial Grass ranges, however.
Fake Grass, like carpets, can be judged on its density. Density is usually referred to as GSM or Grams per Square Meter. Our Harrogate 36mm product has a GSM of 2600/psqm for example. Harrogate is a relatively dense artificial grass, but some of our thinner grades feel just as dense and that's to do with the type of yarn used.
 Read more on our artificial grass buying guide.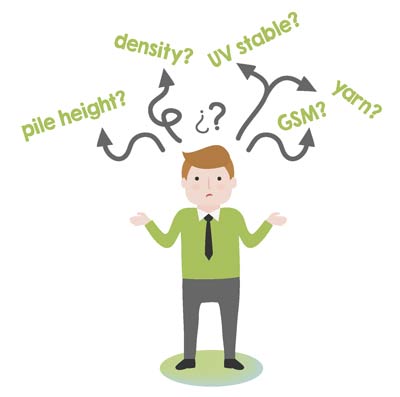 Why Fylde Grass?
Fylde Grass don't just sell any old grass. See what makes our special:
Pet Friendly
All Fylde Grass artificial lawns are ideal for your furry friends! In fact, our in-house testers Lilly and Teddy love nothing more than taking a nap on our cosy, cushioned Paradise 45mm!
UV Stabilised
Fylde Grass Fake Turf is UV Stabilised. This means it won't fade when exposed to sunlight! (Which isn't very often in the UK!)
EU Made
Fylde Grass is manufactured in Europe to ensure it goes through the best quality control measures. This ensures we can guarantee it is safe for kids and pets and will last for  many years
2m and 4m widths
Fylde Grass comes in 2m or 4m widths. If your project is wider than 4m, don't panic! We can help you work out the best solution with minimal waste grass.
No sand infill
All of our Grasses are manufactured in accordance to very high EU manufacturing procedures and therefore do not require a sand in-fill to stand the test of time!
Multipurpose
All Fylde Grass artificial lawns can be used for a variety of jobs! Garden lawns, roof terraces, nurseries. You name it!
Great Drainage
All Fylde Grass comes with drainage holes. This prevents annoying puddles from ruining your sunbathe!
Free UK Delivery
As a customer of Fylde Grass you will enjoy free delivery as standard! Most orders can even be delivered the next working day!
Why are Fylde Grass so cheap compared to other Artificial Grass companies?
We're a grass-roots, family business that has stayed true to its origin.
We import our Artificial Grass directly from some of the best, handpicked suppliers in Europe in large quantities. This means even our cheap artificial grass is of the highest quality.
Here at Fylde Grass, we take great pride in selecting Grasses that we know you'll love and sell them at prices we know you'll love to pay.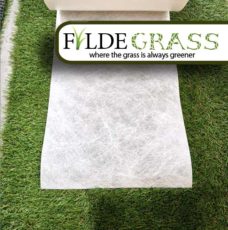 £

1.00
Joining Tape
£

1.00
Joining tape for joining pieces of Artificial Grass together along with our Artificial Grass Joining Glue / Adhesive.